Tampa Bay Rays Have a Good Round One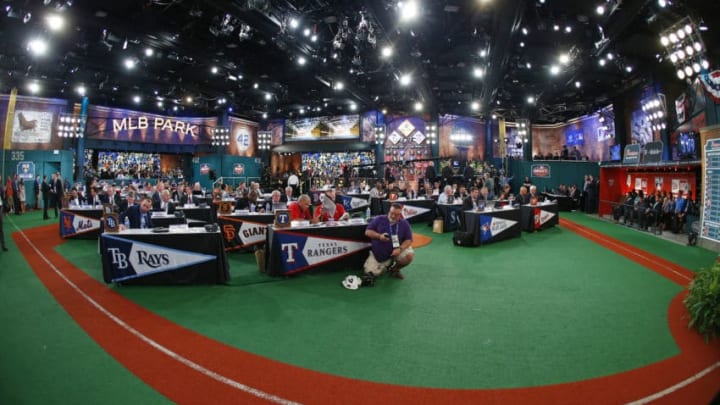 SECAUCUS, NJ - JUNE 5: Representatives from all 30 Major League Baseball teams fill Studio 42 during the MLB First-Year Player Draft at the MLB Network Studio on June 5, 2014 in Secacucus, New Jersey. (Photo by Rich Schultz/Getty Images) /
The Tampa Bay Rays seemed to have a good first day of this year's draft.  Some might think better than they expected when it started.
When the 2018 MLB Draft opened last night at 7:00 p.m., could the Rays have expected to be able to draft the players they did with their first three picks?  Let's break down the Rays' five picks.
Rd. 1, #16 – Matthew Liberatore, LHP – Mountain Ridge (AZ) High School
Perhaps one of the bigger surprises of the night, high school lefty Matthew Liberatore dropped to the Tampa Bay Rays with the 16th pick.  This is a highly regarded starting pitcher who most scouts and draft analysts had as a sure top ten, including MLB.com's Jonathan Mayo and Jim Callis.  They had him going to the San Diego Padres at #7 in their final mock draft.
Liberatore is a hard-throwing starting pitcher who struck out a whopping 104 batters in 60 1/3 innings in his senior season while posting a 0.93 ERA.  He earned Arizona's Gatorade Player of the Year honors as a result.
Opposing coach Jeff Baumgartner summed up Liberatore this way to the Arizona Republic's Richard Obert:
""Matthew Liberatore is a bulldog. Filthy four pitches and the kind of swagger to use it in any count. Best high school pitcher I have ever seen…""
Comp, #31 – Shane McClanahan, LHP – University of South Florida
Another left-handed starting pitcher fell much lower than originally projected, although McClanahan my ultimately end up in the bullpen.  Many had McClanahan in their top 10 when the NCAA season started. But, a shaky red shirt sophomore season saw him drop on many draft boards.
Next: USF's Shane McClanahan being available at pick #31 was tempting enough.
The Rays coaching staff will hope they can get their hands on McClanahan quickly and work to resolve the control issues that have slowed his progress.  If that works, he could make a beeline to the majors in a bullpen role.
Comp, #32 – Nick Schnell, OF – Roncalli (IN) High School
Picked where most had him going, the Rays selected high school outfielder with this pick.  He is a true athlete, with both speed and power, knocking 10 home runs while stealing 14 bases in his senior season.  In one stretch, he hit seven home runs in 14 at bats.
Round One Wrap-Up
By most accounts, the Rays scored big with their first three picks.  In their draft grades, www.mlbdailydish.com gave the Rays a A+ for their selection of Matthew Liberatore, an A+ for their selection of Shane McClanahan and just an A for Nick Schnell. Obviously, time will tell.  But, the Tampa Bay Rays front office must be excited about the three newest prospects.