How did Tampa Bay Rays hitters fare against Roy Halladay?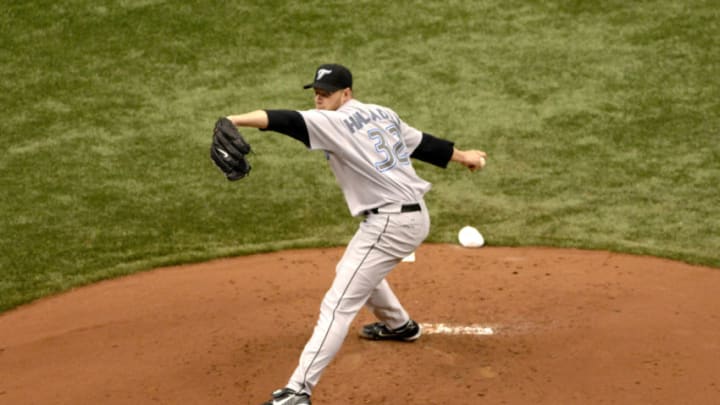 Toronto Blue Jays pitcher Roy Halladay against the Tampa Bay Devil Rays, April 8, 2007 in St. Petersburg, Florida. The Jays defeated the Rays 6-3. (Photo by A. Messerschmidt/Getty Images) /
 Roy Halladay joins Mariano Rivera as the only first ballot Hall of Famers to enter the Hall in 2019. Like Rivera, the 2 time Cy Young winner was a longtime AL East foe of the Tampa Bay Rays and Devil Rays.
Halladay broke in with the Toronto Blue Jays in 1998, the Devil Rays inaugural season. He would remain a Blue Jay until 2010, which is when he joined the Philadelphia Phillies, who were only a season removed from defeating the Tampa Bay Rays in the World Series.
Like Mariano Rivera, the Rays had to face Roy Halladay more than almost every other team in Baseball. Halladay only faced the Red Sox and Yankees more often throughout his 16 year career.  In essence, Halladay practically spent an entire season of his career pitching against the Rays. (34G/31GS).
But, let's take a look at his Hall of Fame career as a whole first. He was a 2 time Cy Young award winner and an 8 time all-star. Aside from winning the Cy Young award twice, he also finished in the top 5 for Cy Young voting 5 other times. He led the league in innings pitched 4 times, which means that "Doc" literally spent a quarter of his career leading the league.
He has a career record of 203-105 and a 3.38 earned run average. He struck out 2117 batters over the course of 2749.1 innings pitched. Now, take a look at just how good he was against our team…
Roy Halladay v.s. the Tampa Bay Rays and Devil Rays 
G/GS: 34/31
Record: 12-11
CG: 4
IP: 225.2 IP
ERA: 3.67
K/BB: 170/47
Like I said, he literally spent an entire season pitching against just the Rays. It was a successful season worth of starts as well. He maintained a sub-four ERA and struck out 170 Rays hitters.
Roy Halladay at the Tropicana Field 
G/GS: 18/17
Record: 9-5
IP: 123.1 IP
ERA: 3.14
K/BB: 83/23
As good as he was against the Rays, he was even better when he faced them at Tropicana Field. Similar to Rivera, Halladay was also caught by the current Rays manager, Kevin Cash.
The Rays skipper caught a fair share of Roy Halladay's games across the 2003 and 2004 seasons.
Roy Halladay caught by Kevin Cash
G: 19
IP: 137.2
ERA: 3.33
K/BB: 108/28
Tragically, Halladay passed away in 2017 due to a plane crash. He left behind a legacy which will be soon enshrined in Cooperstown.
Want your voice heard? Join the Rays Colored Glasses team!
Congratulations Roy Halladay!