Tampa Bay Rays: Hall of Fame, Harrison, and Cash-less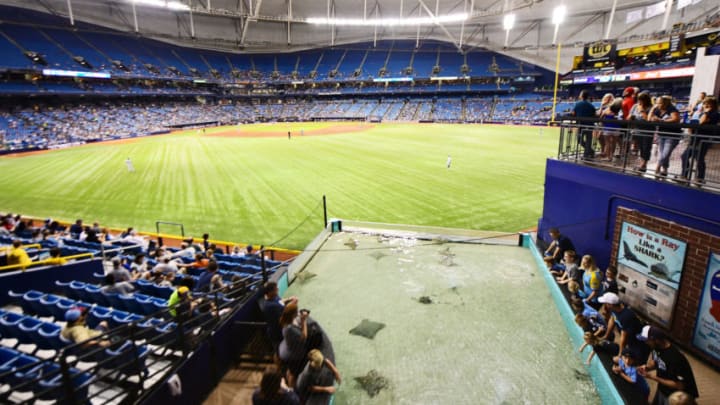 ST PETERSBURG, FL - SEPTEMBER 29: Fans enjoy the stingray tank during the sixth inning of a game against the Tampa Bay Rays and the Toronto Blue Jays on September 29, 2018 at Tropicana Field in St Petersburg, Florida. (Photo by Julio Aguilar/Getty Images) /
Rays Manager Kevin Cash should be a Manager of the Year favourite. (Photo by Julio Aguilar/Getty Images) /
Yes, you read that right. In case you missed it, news broke early yesterday regarding the Rays choice to make the Trop a cash free stadium.
The Rays already chose to close the top deck of the stadium due to lackluster attendance over the past 5 years, now they will no longer be accepting cash. All purchases must be made by card whether it be credit or debit… or even by means of a Rays card.
The move to a cash free environment make the Trop the first Major league ballpark to do so. The Rays aren't doing anything too out of the ordinary however, as there is a growing number of small businesses entering the cash-free arena. Don't get me wrong, thousands of customers on a nightly basis is a different animal, but I guess it is worth a shot.
Craig Calcaterra of Yahoo! Sports wasn't thrill with the movie claiming that it freezes out people who lack access to a bank account. Here is a sample of what he had to say:
"they freeze out people who don't have access to bank accounts and/or credit or debit cards, such as low-income and people of color, who are far more typically unbanked of underbanked than others."
The move is an interesting one to say the least, and you can find my opinion along with Calcaterra's below.
As always, thank you again for your constant support of us here at Rays Colored Glasses. Keep an eye out for the "Top 15 Pitching Prospect" ranking coming out tomorrow.
Let us know what we can be doing better or what you would like to read about below and at Twitter @RaysReimann and @RaysColoGlasses !!!