Tampa Bay Rays Weekly Preview: We made it to Opening Day!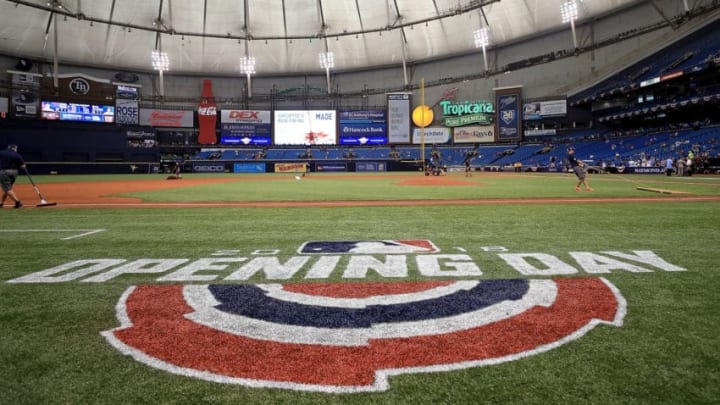 ST PETERSBURG, FL - MARCH 29: The grounds crew prepares the field during a game between the Tampa Bay Rays and the Boston Red Soxon Opening Day at Tropicana Field on March 29, 2018 in St Petersburg, Florida. (Photo by Mike Ehrmann/Getty Images) /
Folks, we have made it! Baseball season is here! The Tampa Bay Rays play meaningful games this week!
This is the final edition of the Tampa Bay Rays weekly that has to preview spring training games! rejoice!
This week, the Tampa Bay Rays kick off their regular season!
But first, they have a couple more Spring games to slug through.
The Tampa Bay Rays will take on the Phillies on Monday at 1:05 EST and that game will be shown on MLB network brought to you by NBCSP.
The next day, the Rays host the Detriot Tigers for a 12:35 first pitch game that will be shown on FS Sun.
The Tampa Bay Rays will enjoy an off day on Wednesday before getting amped up for the start of the season.
This week, you can look forward to the Rays finalizing their 25 man roster for the start of the season! We will have it covered right here on the site, and on Twitter @RaysColoGlasses.
Also this week, I will be starting the first ever Rays Colored Glasses community Fantasy League! Stay tuned to the site and twitter for more information on that!
On Thursday, March 28th, the fun begins.
That, of course, is Opening Day when the Tampa Bay Rays face off with the Houston Astros at 4 p.m. EST. It will be Blake Snell for the Rays going toe to toe with Justin Verlander of the Astros.
On Friday the Rays will toss Charlie Morton against Gerrit Cole if Kevin Cash sticks to the rotation he set out two weeks ago. That game will start at 7:10 on Friday.
The Astros have not listed a starter for Saturday's game at this time, but again, if Cash sticks to his first announced rotation he will hand the ball to Tyler Glasnow. Saturday's game three is slated for 6:10 p.m.
Lastly, on Sunday, the Rays will throw out Ryne Stanek against a starter to be determined by the Astros. This is significant as the Astros stud third baseman Alex Bregman was outspoken against the opener earlier this offseason.
One last thing to look forward to is that we will have a full, in depth series preview all year long of course starting with the first series against the Astros later this week! That and much more!