Rays News
Tampa Bay Rays lose Stephen Woods Jr in Rule 5 Draft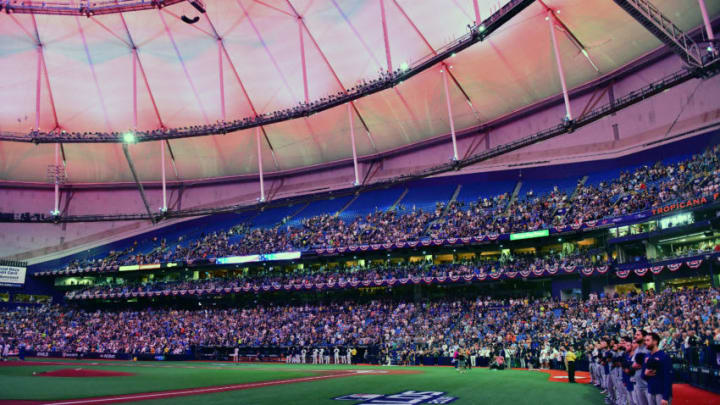 Tropicana Field (Photo by Julio Aguilar/Getty Images) /
The Tampa Bay Rays have lost another promising player in the Rule 5 draft.
A side effect of having a deep farm system like the Tampa Bay Rays is you are prone to having unprotected players picked off in the Rule 5 Draft. Five out of the past six years the Rays have lost a player in the Rule 5 Draft.
2014: Oscar Hernández to the Arizona Diamondbacks
2015: Joey Rickard to the Baltimore Orioles
2016:  None!
2017: Burch Smith to the New York Mets (traded to the Kansas City Royals)
2018: Sam McWilliams to the Kansas City Royals
2019: Stephen Woods to the Kansas City Royals
Geesh…Royals, you are peskier than Mel Brooks is to the poor people of Rottingham… Leave us alone Royals!
After missing all of 2018 with a shoulder injury, Woods went 9-3 with a 1.88 ERA in 18 High-A games last year. Pitching in 231.1 career Minor League innings, Woods has a cumulative ERA of 2.61 and a 1.36 WHIP.
He was able to bring the WHIP down to a career-best 1.20 in 2019. Woods struck out 79 batters in 86.1 innings and issued 33 walks. Woods is 24-years-old and came to the Rays as part of the Evan Longoria trade that sent the star third baseman to San Francisco in exchange for Woods, Christian Arroyo, Matt Krook, and Denard Span.
Director of Minor League Operations, Jeff McLerran lamented the loss of a promising player like Woods and wished him well.
""Excited for Stephen to get the opportunity with Kansas City. He put in a lot of work over the last year given the injury he had in 2018. We saw flashes of the guy that we traded for this past year. Definitely thought he has a future."
The Royals have had luck with the Rule 5 draft in the past. As recently as two years ago, they took Brad Keller who was the Opening Day starter for Kansas City in 2019. They are hoping for similar luck with Woods.
The Royals began scouting Woods in high school and have followed his career closely ever since. They seem excited about their new addition to their struggling pitching staff.
The Royals paid $100,000 for the rights to Woods and he will now be a part of their Major League roster.
We wish Stephen Woods Jr. all the best with the Royals.