Tampa Bay Rays: This decade by the numbers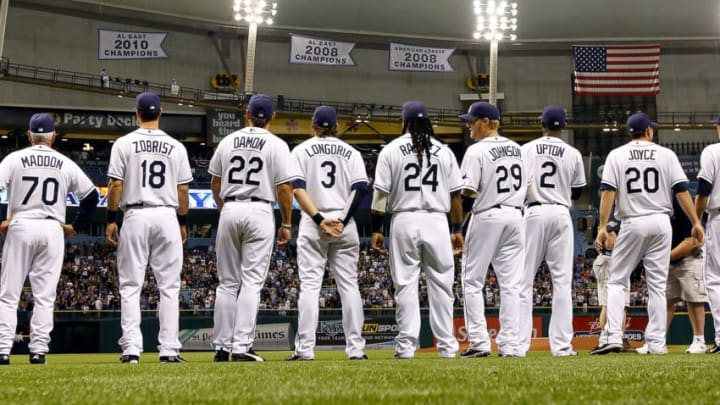 Tampa Bay Rays (Photo by J. Meric/Getty Images) /
This past decade in Rays baseball has been filled with a ton of wins, playoff appearances and strikeouts. Lets break them all down…
In the ten seasons that were played this decade, the Tampa Bay Rays amassed more than 800 wins and lost over 700 games under a pair of managers. They made four playoff appearances and raised one AL East banner.
When you look at the numbers over ten seasons, it is pretty jaw dropping… so here are some of the stats from the past ten seasons combined.
Wins: 860
The Rays won 96 games twice this decade. Once to open the decade and again to close out the decade. They won at least 90 games six of the past ten seasons. The other four seasons were losing seasons.
Loses: 761
The most losses in a season this decade came in 2016 when they lost 94 games. 2014 through 2017 was the worst stretch of the decade and resulted in four consecutive losing seasons.
Playoff Appearances: 4
The Rays made the playoffs in 2010, 2011, 2013, and 2019. The won 90 games in 2012 and 2018 yet failed to make the postseason both times.
Playoff Record: 8-12
This decade the Rays won both of their win or go home wildcard games. In 2013 they beat the Cleveland Indians in Cleveland behind a gutsy performance from Alex Cobb and this past season they defeated the Oakland Athletics in Oakland. In back to back seasons to begin the decade the Rays fell to the Texas Rangers in the ALDS, in 2013 they fell to the Red Sox in the ALDS, and this season they fell to the Astros in the ALDS… despite four trips to October the Rays never appeared in an ALCS.
Homeruns: 1,767
The most homeruns by the team came in 2017 when they blasted 228. The least came in 2014 when they only hit 117.
Stolen Bases: 1,054
In 2010 they stole a decade leading 172 bases. Carl Crawford (47) and B.J. Upton (42) accounted for 51% of those. In 2016, the club's worst year this decade, they only stole 60 bases.
Strikeouts: 13,568
Over the course of the decade, Rays pitching has struck out a ton of opposing batters. This past season, Rays pitching struck out a decade-most 1,621 batters. In 2011, they struck out a decade-least 1,143 batters.
E.R.A.
Only once in the past ten seasons did the team's earned run average creep above 4.00 (2016, 4.20).
Complete Games: 42
15 of the 42 complete games this decade came in 2011 and 11 of those were tossed by James Shields. 4 of the 11 complete games thrown that season by Shields were complete game shut-outs. A Rays pitcher hasn't thrown a complete game since 2016, though Ryan Yarbrough was one out shy in 2019.
Most Valuable Season (Position Player): Longoria's 2010
Evan Longoria finished 6th on the MVP voting in 2010 after ending the season worth 8.2 bWAR. He slashed .292/.372/.507 with a 134 OPS+ and 22 bombs, 46 doubles, 104 runs batted in. He also won his second gold glove that season and was an all-star.
Most Valuable Season (Pitcher): Snell's 2018
Blake Snell brought home the franchise's second  Cy Young award in 2018 and was worth 7.4 bWAR. He led the league in ERA (1.89) and ERA+ (217). Snell won 21 games, lost 5 and struck out 221 batters in 180.1 innings of work.