Tampa Bay Rays: A look at the AL-NL East Division in new 2020 plan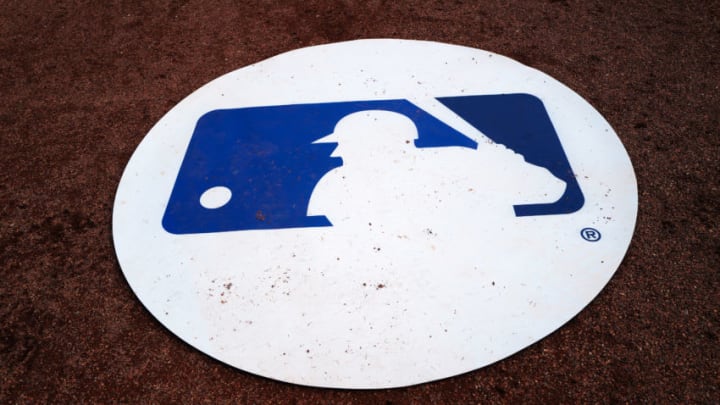 MLB Logo (Photo by Mark Brown/Getty Images) /
We take a look at how the recent owners-approved plan for a 2020 season would impact the Tampa Bay Rays.
The owners recently approved a plan to play a 2020 season that would begin around the Fourth of July weekend. Today we take a look at how a few key aspects would make this a unique season for the Tampa Bay Rays.
NL East / AL East
To make sure we responsibly resume societal functions, all efforts will be exhausted to limit further spreading of the novel coronavirus. With such considerations being taken into account by the MLB owners, the plan would limit teams to playing only within their own division and the opposing league's regional division.
In other words, the Rays will only play teams from the AL and NL East divisions.
That's tough sledding.
This lot of teams includes the defending World Champion Washington Nationals. Four of the 10 postseason teams from last season (New York Yankees, Atlanta Braves, Tampa Bay Rays, and Washington Nationals).
Here's a list of the teams based on wins last season:
New York Yankees (103-59)
Atlanta Braves (97-65)
Tampa Bay Rays (96-66)
Washington Nationals (93-69)
New York Mets (86-76)
Boston Red Sox (84-78)
Philadelphia Phillies (81-81)
Toronto Blue Jays (67-95)
Miami Marlins (57-105)
Baltimore Orioles (54-108)
The Rays compared very well to the rest of the group, but with this schedule arrangement, things could get tricky. The Yankees, Braves, Rays, and Nationals are all serious contenders right off the bat.
The Nationals are the defending World Champions and like others in this group, they boast some of the best starting pitching in all of baseball. Max Scherzer is a three-time Cy Young winner and one of the greatest pitchers of his generation. Stephen Strasburg is coming off of a World Series MVP in 2019 and boasts a 3.17 ERA over 10 seasons. Patrick Corbin rounds out the monstrous top three for the champs. While they did lose their star offensive player Anthony Rendon in free agency, they did their best at filling the gap with several key veterans such as Starlin Castro, Eric Thames, and Asdrubal Cabrera. Outfielder Juan Soto is blossoming into one of the best players in all of baseball.
The Atlanta Braves actually won the NL East last season with their core of exciting young players like Ronald Acuna Jr., Ozzie Albies, Mike Soroka, and Max Fried. They also have a nice mix of veteran leaders and impact players such as Marcell Ozuna, Nick Markakis, Cole Hamels, and 30-year-old Freddie Freeman. While they lost Josh Donaldson to free agency this past off-season, the addition of Ozuna helped fill the hole on offense while Cole Hamels answers a lot of questions in the rotation behind Soroka, Fried, and Foltynewicz.
The Mets and Red Sox are not to be dismissed. The Blue Jays have a nice young core that looks to improve in 2020 with players like Vladimir Guerrero Jr., Bo Bichette, and Cavan Biggio. Likewise, the Marlins have some nice young players and added veterans Jonathan Villar and Jesus Aguilar this offseason.
Even though they are only proposing 80-82 games on the schedule, the Orioles may still lose 100 games in 2020.