Jonny Venters Refusing to Give Up on Major League Return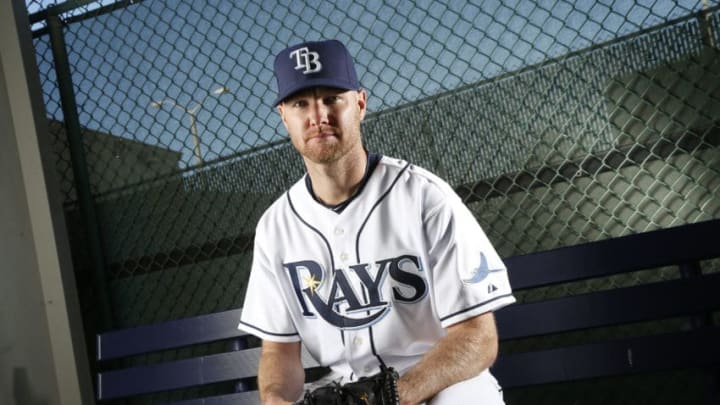 PORT CHARLOTTE, FL - FEBRUARY 25: Pitcher Jonny Venters /
It has been five years since Jonny Venters pitched in the majors. If he can stay healthy, his return could end up coming this season for the Tampa Bay Rays.
There was a time when Jonny Venters was one of the top setup men in the game. Paired with Craig Kimbrel in the back of the Atlanta Braves bullpen, the duo proved to be completely dominating. However, disaster struck for Venters during Spring Training in 2013, when it was discovered that he needed Tommy John surgery, his second procedure.
Hoping to come back to the Braves in 2014, Venters simply was not ready. Attempting to rehabfrom his second procedure, Venters was unable to reach 80 MPH with his fastball. It was discovered that he tore the ligament again, requiring his third surgery. The Braves cut Venters loose, and his career appeared to be over.
However, Venters signed with the Tampa Bay Rays prior to the 2015 season, with the idea that he would work his way back into shape. He did make five appearances with the Charlotte Stone Crabs, but tore his UCL yet again, undergoing his fourth Tommy John surgery. Nonetheless, Venters persisted, refusing to give up on his dream to return to the majors.
More from Rays Colored Glasses
Now, nearly five years since his last major league pitch, that dream is coming closer to becoming reality. Venters is back on the mound, currently back in Charlotte after five appearances in the Gulf Coast League. In his eight outings thus far, Venters has allowed just four hits and two walks, striking out ten batters.
That performance has also caught the attention of the Rays. While Venters is not on the 40 man roster currently, Marc Topkin of the Tampa Bay Times speculated that he could be a candidate to be called up in September. Given the status of the Rays bullpen, especially in the past couple of days, Venters could end up becoming a key piece.
If that is the case, it would be a remarkable comeback for the once dominant reliever. The track record of pitchers who had three or more Tommy John surgeries is spotty at best, but it would not be unprecedented if Venters does find his way back. After all, Jose Rijo managed to come back after his fifth procedure, so Venters is not in uncharted territory.
Next: Phillies scouting Rays system
It has been quite some time since Jonny Venters pitched in the majors. That wait may be coming to an end soon, based on how well he has performed thus far in the minors.