Rays: Just how good was Randy Arozarena's rookie season?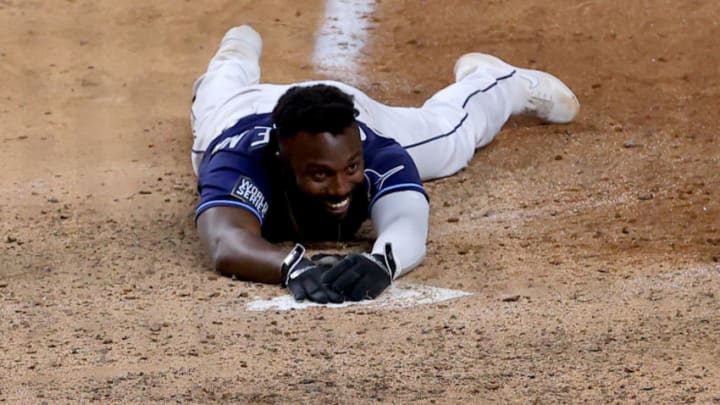 Tampa Bay Rays outfielder Randy Arozarena of the Tampa Bay Rays slides. (Photo by Tom Pennington/Getty Images) /
The American League Rookie of the Year Award will not be announced until Nov. 15, but many baseball fans across the country, not only in Tampa Bay, think Rays outfielder Randy Arozarena will capture the award.
Regardless of whether Arozarena wins the award, it provoked curiosity as to where he ranks all-time among Rays' rookies, including 2008 AL Rookie of the Year Evan Longoria.
There are several statistical categories that can help us decide where Arozarena ranks.  For simplicity, the award is limited to offensive production, thereby eliminating pitchers, such as 2011 League winner Jeremy Hellickson.  Results were also limited to those with at least 400 at-bats.
How Rays Rookie of the Year candidate Randy Arozarena ranks statistically
The first category to be looked at is Wins Above Replacement (WAR), a stat with which baseball fans have fallen in love. WAR is supposed to provide a number by which players can be compared, regardless of home park, the era in which they played, etc.
Ranking Rays' rookies all-time by WAR provides a surprising result. 2018 rookie Joey Wendle topped the list with a 4.9 WAR, putting him ahead of Longoria (4.8) and Arozarena (4.2). In 2018, Wendle was fourth in voting for the League Award, which was won by Shohei Ohtani of the Los Angeles Angels.
Runs Created was the next category that was looked at.  Again, based on the WAR result, another surprise then developed. Longoria (84) dropped to third on the list, trailing Arozarena (89) and Rocco Baldelli (86).
This brought up the question of where Arozarena would rank in the category of Batting Runs, which is an attempt to assess a player's total contribution to his team (0.0 is considered average).
Arozarena again was comfortably atop the list. His Batting Runs total for his rookie year was 25, trailed by Longoria's 17.
Longoria has long been the Rays' top player ever in the hearts of the fans and is perhaps best remembered as an offensive juggernaut. This no doubt was helped by the 261 home runs hit by Longoria while he played for the Rays.  Longo will always be atop the fans' list of all-time great Rays.
There was one more number to look at in comparing rookie seasons. Its legitimacy, as with all these sabermetric stats, depends upon the view of the reader. The stat is listed as "Clutch" and seeks to determine performance in high-leverage versus low-leverage situations.  In other words, a home run hit in a 10-0 blowout would not be equal to one that is hit in a 1-0 game.
We looked at the numbers for "Clutch," and Arozarena topped the list with a total of 0.9 (a positive number indicates the player did well in clutch situations while a negative number is the opposite).
Whereas Arozarena had the highest ranking of a Rays' rookie, Longoria had the lowest, with a -0.9.  Such a rating, in Longoria's case, goes against the conventional wisdom held by many fans, especially those who remember Longo leading the Rays to their first World Series in 2008.
Despite the differences in their rookie seasons, there is one similarity that exists this year between the two. Each played for the team with the most wins in the regular season for their league (the Rays and San Francisco Giants). Each team was eliminated in their respective LDS playoff series.
Newfangled stats or traditional. The choice is yours. Either way, both Arozarena and Longoria provided Tampa Bay fans with memorable rookie seasons.