The Latest on the Rays' Stadium Situation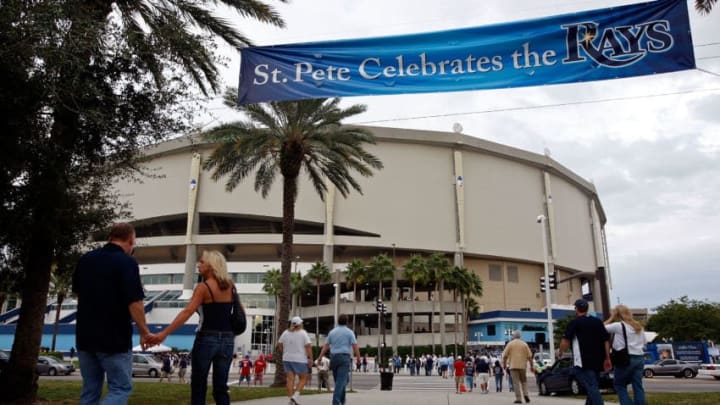 ST PETERSBURG, FL - OCTOBER 22: Fans walk outside Tropicana Field prior to game one of the 2008 MLB World Series between the Tampa Bay Rays the Philadelphia Phillies on October 22, 2008 at in St. Petersburg, Florida. (Photo by Jamie Squire/Getty Images) /
The search continues for a new stadium for the Rays with little results so far coming from from ownership, however just about every local newspaper columnist seems has their own take on the issue.
The search for a new stadium site for the Tampa Bay Rays is heating up again. Major League Baseball commissioner Robert Manfred is on the campaign trail praising Stu Sternberg as an owner.
However, he is threatening relocation of the Rays if plans for a new stadium are not finalized soon. Meanwhile, Stu Sternberg has actually spent time in St. Petersburg playing good cop and sounding encouraging about talks with regional leaders.
The Tampa Bay Times has caught wind of all of this activity and has printed extensive articles by the paper's editorial board and sports writer turned columnist John Romano. The chatter is based on the rumors that Hillsborough County is putting together a proposal for a stadium to be built in the Ybor City area of Tampa.
More from Rays News
Ybor City, known for its Cuban history, cigar making and a raucous early morning nightclub scene, has available land going for it but not much else. However, it seems to be the site de jour for a new stadium.
The Times points to Ybor City's proximity to downtown Tampa and the availability of decent parking. They fail to mention that Jeffery Vinik, owner of the Tampa Bay Lightning and most of the available land in downtown Tampa, has already said that he does not see baseball as economically feasible in downtown Tampa. That has ruled out downtown Tampa and Ybor City seems to be the next best site.
Romano is more forthright about the Ybor City location. The headline of his column is "Ybor isn't perfect for baseball but it'll do."  He points to the neighborhood feel of the stadium and the potential for development around the stadium.
However, he neglects to comment on Stu Sternberg's comment that any site that was not "pitch perfect" wouldn't solve the attendance problem. All in all, it's not a ringing endorsement for the location.
All of this makes for good newspaper copy but it doesn't address some of the major problems that remain even if the Rays agree that the Ybor City site is right for them. The first is the total lack of any decent public transportation.
That means most people have to drive to the stadium and Ybor City is at the confluence of I-275, I-4 and the Leroy Selmon Expressway. So, if you want to get to the proposed stadium for a weeknight game, you have to be on one of those expressways during rush hour. It is already bumper-to-bumper from 4 p.m. to 7 p.m. and you can imagine what it will be like with a ball game crowd.
More from Rays News
Then there is the dream that a team in or near downtown Tampa will add more corporate sponsorship and season tickets.
Unfortunately, while Tampa Bay's economy has grown nicely, the area remains a low wage service economy and most major corporations in Tampa Bay have backroom operations and not corporate headquarters. The corporate money that is available will be stretched between the Buccaneers, the Lightning and the Rays.
There is also the unresolved issue of how a new stadium would be financed. It is estimated that a cozy 30,000 seat stadium with a roof would cost north of $800 million.
Although the county would ask for a fifty fifty split it's hard to see Sternberg putting up more than $200 million. Asking the tax payers to finance $600 million through taxes is a real stretch in this day and age. It is particularly problematic after seeing the Miami Marlins, a team that Jeffery Loria bought for $158 million, sell for over a billion dollars.
Finally, there is reason to believe that a new stadium will do little to increase attendance and only pad Sternberg's portfolio.
In 2011, the last year the Marlins played in Joe Robbie stadium, they drew an average of 19,000 fans per game. In 2017, in their new half billion dollar stadium, they are drawing an average of 20,000 fans a game.
The popularity of live baseball in Florida is hard to gauge. I remember that in the Devil Rays inaugural season, decent season tickets were hard to come by. In the years following, at least Yankee and Red Sox games sold out. Neither is a fact of life in 2017.
Next: Rays Could Be Sellers by the Weekend
I have lots of fellow baseball fans who love the Rays but aren't going to pay the hefty ticket prices when nearly all of the 162 games are televised. I think the team will need a better game plan than just an expensive new stadium to get the local fans to put down their hard earned money for 81 games.