Rays Colored Glasses needs your help; Write for us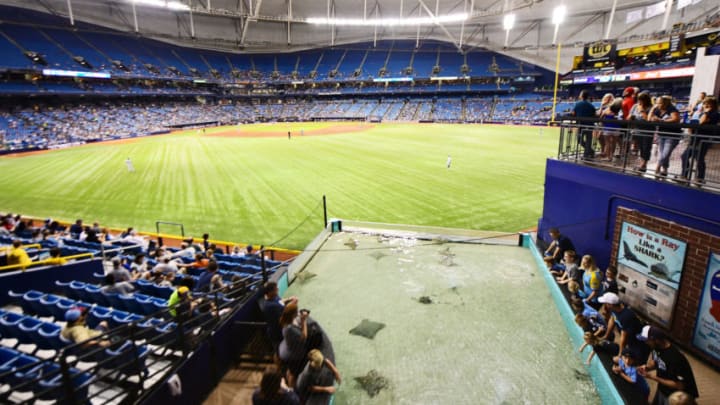 ST PETERSBURG, FL - SEPTEMBER 29: Fans enjoy the stingray tank during the sixth inning of a game against the Tampa Bay Rays and the Toronto Blue Jays on September 29, 2018 at Tropicana Field in St Petersburg, Florida. (Photo by Julio Aguilar/Getty Images) /
The New Year is a chance for new opportunities and here at Rays Colored Glasses, we have a great one for YOU!
The Tampa Bay Rays won 90-games a year ago and were one of the most exciting teams in baseball.
2019 will prove to be an even better year for the Rays, and those of us here at Rays Colored Glasses.
We all love sports, and if you are reading this it is fair to assume you are a baseball fan and likely a Rays fan! Everyone enjoys talking about sports, and this is a way to have your voice heard! Your articles may be featured on Bleacher Report, and will reach a large audience with a ton of interaction with fellow Rays fans!
Tampa Bay Rays
As a contributor, we look for your ingenuity and creativity, as well as your knowledge on specific fandoms. This is a great role for the budding writer or blogger looking for an exciting platform to hone their craft. As a contributor, you will receive unparalleled support, training, and exposure for your growing voice.
With a welcoming team who will help you find your writing style, as well as help you along in this process, there is no reason to not act on your urge to have your voice heard!
We prefer passionate Rays fans, but even if you are just a seamhead looking to write about baseball, apply!
The FanSided team is a great opportunity for aspiring sportswriters, and it is never too late to try! In under a year at FanSided, I was able to go from a contributor with Thunderous Intentions to a paid contributor at Arrowhead Addict, and Busting Brackets, to now being a co-site expert at Rays Colored Glasses. All as a sophomore in College.
Please consider this great opportunity, and do not hesitate to reach out on Twitter!