Tampa Bay Rays Recap: January 1st-5th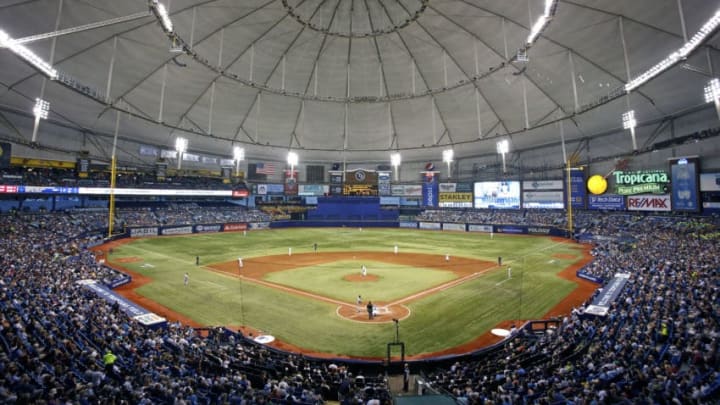 ST. PETERSBURG, FL - APRIL 17: General view as baseball fans watch the Tampa Bay Rays take on the New York Yankees during the sixth inning of a game on April 17, 2014 at Tropicana Field in St. Petersburg, Florida. (Photo by Brian Blanco/Getty Images) /
The offseason has come to a grinding halt it seems but that doesn't mean that there isn't anything to take about… At Rays Colored Glasses we spent the week identifying some free agent targets that the Tampa Bay Rays may look at signing.
The Tampa Bay Rays only made one move this week… the acquisition of Oliver Drake. But, the inactivity that has surrounded the Rays can change in an instant. Until then, we will keep identifying some targets for the Rays.
Tuesday, January 1st: The state of the Rays bullpen entering 2019
"We don't know what the finished product will look like out of spring training. What we do know is that the Rays organization is loaded with arms and Kevin Cash will have tons of option to close from not only out of spring training but really throughout the entire season."
Wednesday, January 2nd: Free agent target: David Robertson
"Convincing the self represented 33-year-old to pack up and come south will be a tall task no doubt as he has publicly claimed that he wants to remain in the Northeast. But, the Rays have the money to spend and the exciting young core to possibly convince the veteran Robertson to make Tampa his new home."
Oddly enough, David Robertson would agree to a two year contract with the Philadelphia Phillies the very next day. The contract was worth 23M over 2 years, a price that the Rays should have considered.
Thursday, January 3rd: Free agent target: Matt Davidson
"Matt Davidson is a slugging corner infielder who is underrated by the more casual fans in the baseball community. Let's face it as Rays fans, we know what it is like to have guys be overlooked due to the national media not paying attention, and that is some of what happened to Matt Davidson."
Rays Colored Glasses needs your help! Write for us!
"We all love sports, and if you are reading this it is fair to assume you are a baseball fan and likely a Rays fan! Everyone enjoys talking about sports, and this is a way to have your voice heard! Your articles may be featured on Bleacher Report, and will reach a large audience with a ton of interaction with fellow Rays fans!"
Friday, January 4th: Free agent target: Shawn Kelley
"I don't know if Kelley is even on the Tampa Bay Rays radar this offseason, but if signed he could be a pivotal piece to a Rays team looking to compete in October. He fits the bill as an under the radar signing who the Rays can plug into the pen and know what they are going to get. Keep your eye out for Shawn Kelley's name in the coming weeks as we approach spring training."
On a separate note, the Rays also acquired reliever Oliver Drake for the second time this offseason. As a result of the acquisition, Jaime Shultz has been designated for assignment.
Next week will be a busy one at Rays Colored Glasses. We will look at some predictions, under the radar reliever options that already play for the Rays, and we will begin to count down some of the Tampa Bay Rays top prospects.
Want your voice heard? Join the Rays Colored Glasses team!
Keep an eye out for news regarding the Rays Colored Podcast that will feature Rylan Stiles and myself. The Rays Colored Podcast will discuss all things Rays and the AL East. Comment below if you want something specific to be discussed.