Tampa Bay Rays: Rest in peace Mr. Pierre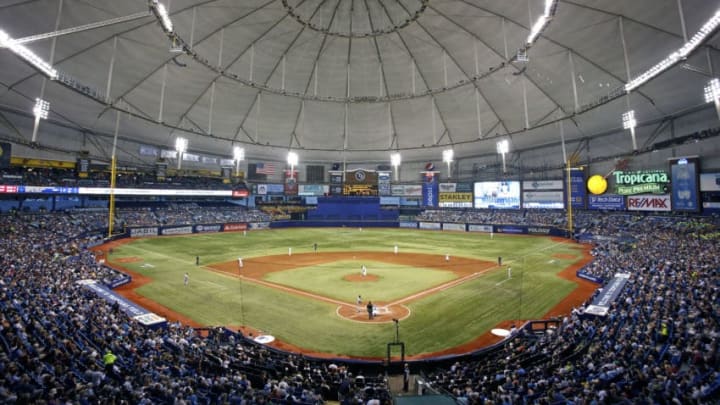 ST. PETERSBURG, FL - APRIL 17: General view as baseball fans watch the Tampa Bay Rays take on the New York Yankees during the sixth inning of a game on April 17, 2014 at Tropicana Field in St. Petersburg, Florida. (Photo by Brian Blanco/Getty Images) /
I recently learned about the passing of the Saxophone Man, Max Pierre. A man who I will always have fond memories of. A man who will be dearly missed by Tampa Bay Rays fans who left gate five after a game.
I have been going to Tampa Bay Rays games since the age of 3, but at the age of 8 attending the Trop became a regular occurrence as my grandparents became season ticket holders midway through that miraculous season. I would begin going to Rays games with my grandfather on a pretty regular basis, and after games we would exit at Gate 5 and cross over 16th Street.
There, we would walk past Mr. Pierre and his rather small assortment of short jazz tunes. The most recognizable of them would be Take Me Out to The Ballgame, but if I heard any of the few tunes he played on repeat, I would recognize them immediately. Heck, as I am writing this I can hear him playing. And, if you share my experience of crossing over 16th Street, you can probably hear him too.
Win or loss, blowout or shutout, game 45 or ALCS Game 7… Max was waiting for you just across the street. The moment you exited gate 5 you could hear those short jazz beats echoing off the bare, rounded walls of the Trop.
Following each game, without hesitation, I would implore my grandfather for a single dollar. He would reach into his pocket to reach for one which I would then go place in his Saxophone case. No matter the song, Max would stop playing and say a quick "Thank you young man!". It was obvious he loved what he did and his genuine kindness was so refreshing.
With Mr. Pierre came regularity. Whether I was overjoyed after a Matt Garza no-no or exasperated after an Alex Colome blown save, he was there. Not only was he there then, but he would be there next time too, his repeated presence after each and every game reminded you that there would indeed be a game the next day. That regularity reminded you that a brutal loss due to a sloppy game full of bad baseball wasn't the end of the world.
You just expected him to be there, and now as you leave the Trop and cross 16th street, the night will be eerily quiet.
He passed away earlier this month due to a brain aneurysm at the way-to-early age of 60.
Rest in peace Max. Thank you for your constant reminder that there would be another game. I will dearly miss walking out of gate five and hearing Take Me Out to The Ballgame.
John Romano said it best earlier today:
"He made his living $1 at a time, and seemed to prefer it that way.The parking lot was his stage, and the Rays were his opening act."