Tampa Bay Rays: No more cash at the Trop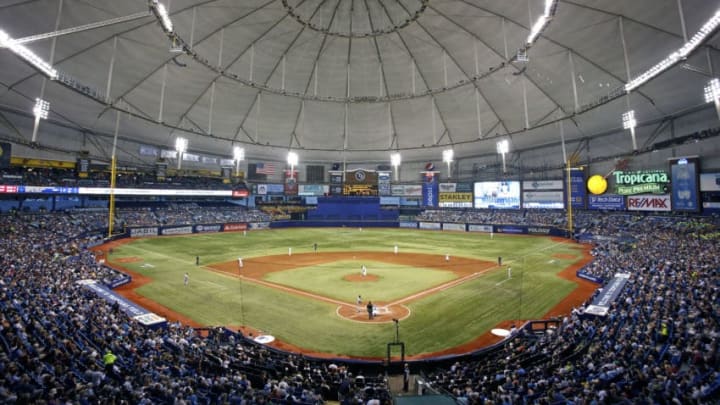 ST. PETERSBURG, FL - APRIL 17: General view as baseball fans watch the Tampa Bay Rays take on the New York Yankees during the sixth inning of a game on April 17, 2014 at Tropicana Field in St. Petersburg, Florida. (Photo by Brian Blanco/Getty Images) /
Dan Kaplan of the SportsBusiness Journal recently reported that the Tampa Bay Rays have opted to make Tropicana Field the first stadium in Major League Baseball to no longer accept cash.
Tropicana Field will not only be missing their 300's section in 2019 but they will also be missing cold hard cash as well. Now, patrons of the game will have to either pay by card or by Tampa Bay Rays gift cards, which they can then use at the registers.
Yes, Tropicana Field will become the first Major League ballpark to stop accepting cash, but they will be entering the growing arena of cashless businesses. Plenty of small businesses have opted to go cashless with the advent of Apple Pay and those little chips in almost every card.
Craig Calcaterra of Yahoo! Sports had plenty to say about the decision and how it will likely be met with plenty of backlash. He along with others are concerned that when a company goes cashless:
"they freeze out people who don't have access to bank accounts and/or credit or debit cards, such as low-income and people of color, who are far more typically unbanked of underbanked than others."
He does address the opposing viewpoints by saying this however:
"To be fair, there is a difference between a ballpark going cashless and, say, a convenience store doing it. You have to pay a considerable amount to enter a ballpark to begin with, so the discriminatory line is drawn before one gets to the beer stand."
An  interesting point that he brings up is the effect this will have on ballpark employees who, in a sense, make a sizable amount of their income via tips. Now if there is now reason for a person to their cash at home when they come to the ballpark, tips quickly vanish.
Yes, there are machines that allow you to add a tip to the final balance when paying by card, but this move to purchases by card only, is likely decision focused on expediency. The end goal would be to improve the flow of concessions, which means it will likely be a swipe (or tap) and move to the side ordeal now while you wait for your food, not allowing for time to choose what percentage tip you would like to leave.
Want your voice heard? Join the Rays Colored Glasses team!
Finally, Calcaterra had this to say about what signal the Rays are choosing to send:
"going cashless further makes going to the ballgame a luxury good as opposed to an entertainment for the everyman, and that's rather sad in my view, even if it's only a matter of symbolism. It's antithetical to the way baseball has long portrayed itself in the national consciousness and makes it something it never was to most of us growing up."
What do you think Rays fans? Do you like the idea or do you think it will cause more harm than good? Let us know below and on twitter… @RaysReimann