Tampa Bay Rays countdown to Opening Day: 10 reasons to watch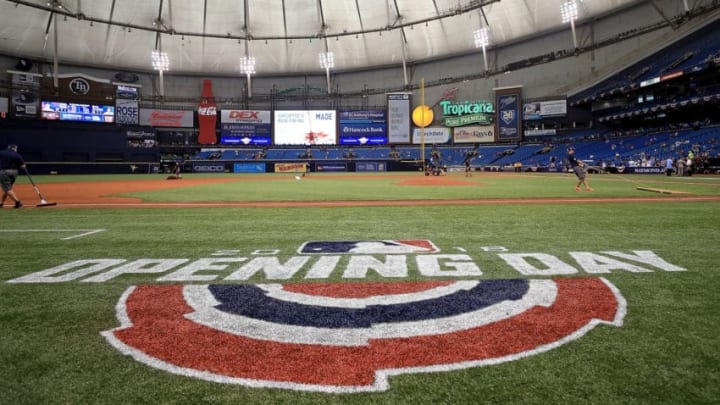 ST PETERSBURG, FL - MARCH 29: The grounds crew prepares the field during a game between the Tampa Bay Rays and the Boston Red Soxon Opening Day at Tropicana Field on March 29, 2018 in St Petersburg, Florida. (Photo by Mike Ehrmann/Getty Images) /
Opening Day is only 10 short days away, so let's count down the days with a Tampa Bay Rays-centric list each day. While it may be a little late, today's list will briefly break down 10 reasons to watch the Rays in 2019.
#10: Exciting debuts
Any number of exciting young players could make their debuts in a Tampa Bay Rays uniform this season. Nate Lowe and Brent Honeywell come to mind as the most exciting and obvious choices to make their debuts, but plenty of players could make an impact in Tampa upon their first arrival.
Colin Poche and Ian Gibaut are both expected to make a contribution at the major league level at some point this season. With a solid season, Jesus Sanchez and Joe McCarthy could be late season additions as well. The Rays farm system is one of the best in the league and we will get to witness that first hand in 2019.
#9: The rotation
The Tampa Bay Rays have overhauled their rotation and baseball's thinking with the implementation of the opener. Now, with the addition of Charlie Morton, the Rays 3-man rotation figures to be a force.
Led by Cy Young award-winning ace, Blake Snell, the rotation features some of the best fastball/curveball combinations in the major leagues. Tyler Glasnow, a truly imposing force on the mound, will have his eyes set on a breakout season. Charlie Morton will look to live up to the 30M the Rays opted to pay him over the next 2 seasons.
#8: Stability
For the first time in a great while, the Rays are positioned to enter a season with little to no question marks. The biggest of them would be the first base situation, but Ji-Man Choi, Yandy Diaz, and Brandon Lowe all have shown a willingness to play the position.
After an unprecedented fire sale last offseason which completed a lengthy overhaul of their entire roster, the Rays enter 2019 with plenty of depth and versatility.
#7: 90 wins in 2018
For the first time since 2013, the Tampa Bay Rays won 90 games. Heck, for the first time since Kevin Cash took over in 2014, the Rays had a winning season. It was a wild ride that nobody really expected to occur but sure enough it did and now the Rays and their skipper enter this season with lofty expectations.
#6: CyZilla
Last season Blake Snell won the  Cy Young, and rightfully so. Now, we get the chance to watch him defend his crown as the best pitcher in the American League. His dominating mix of pitches is an absolute thrill to watch every fifth day.
#5: Charlie Morton
The Tampa Bay Rays made a splash this offseason when they awarded Charlie Morton 30 million dollars over the next 2 seasons. The former World Series winning pitcher now joins a young Rays team looking to compete for a ring themselves. Morton will bring tons of experience and talent to Tampa Bay.
#4: Brent Honeywell
Honey-Day is quickly becoming a reality as the highly touted pitching prospect Brent Honeywell continues to recover from Tommy John surgery. The anticipation surrounding Honeywell's debut was at an all-time high prior to him tearing his UCL last spring. Now, he is eyeing an aggressive return in May or June and the anticipation is mounting yet again.
#3: Zunino
The Mike Zunino/Mallex Smith trade made waves earlier this offseason. Now, with Zunino the new backstop in Tampa Bay, Rays fans will finally get a chance to experience true stability behind he plate.
The Tampa Bay Rays may have finally found the solution at catcher they have been looking for years. Once a position riddled with uncertainty, now the backstop duties are in good hands.
#2: Wander Franco
While he may not be wearing a Tampa Bay Rays uniform this season, or even next season, Wander Franco could become baseballs #1 prospect by the end of this year. He has already been included in the Vlad Jr. and Fernando Tatis conversation as one of baseball's best young talents and now we will get to watch him at higher levels of competition.
Want your voice heard? Join the Rays Colored Glasses team!
#1: Playoffs
For the first time since 2013, the Tampa Bay Rays are actually planning on contending. After a 90 win season in 2018 in which they just barely fell short of October baseball, the Rays have their eyes set on playoff baseball.
The rebuild has come to an end and now we can sit back and watch the boys compete for a coveted spot in October. It will be a wild ride, but after waiting years for the Rays to return to their winning ways, I am ready.