Tampa Bay Rays: 5,786 fans, a stark reality indeed for Tampa Bay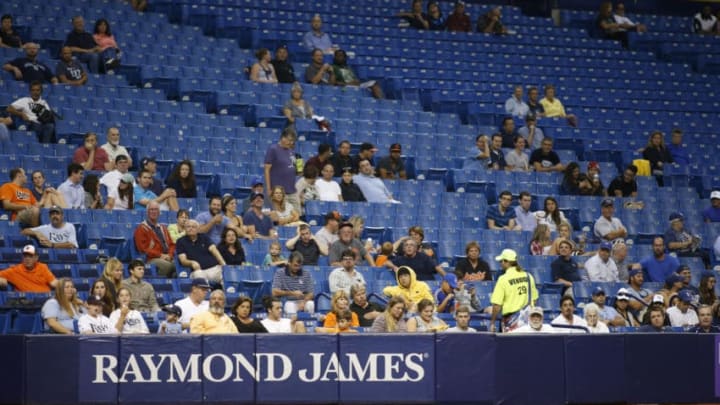 ST. PETERSBURG, FL - SEPTEMBER 17: Baseball fans sit among empty seats during the fifth inning of a game between the Baltimore Orioles and the Tampa Bay Rays on September 17, 2015 at Tropicana Field in St. Petersburg, Florida. (Photo by Brian Blanco/Getty Images) /
The Tampa Bay Rays entered Tuesday night with a 32-19 record, only 2 games behind the first place New York Yankees… but they played in front of 5,786 fans, yes that's it.
Note from the author: As you may know, I am an 18-year-old college student. I don't have much room to talk on the issue of attendance, which is why I have not done so since taking over Rays Colored Glasses in October. I am not an expert on the subject, nor do I attend 81 games a year. Heck, I don't have the earning power yet to regularly attend games. Though, I aim to attend 20-30 games a year and have done so since 2008. But, I have been privy to enough hushed Tropicana Field crowds to form an opinion on the issue, an opinion that I hope you find intriguing, one that may even drive conversation. 
Tuesday night's showing of 5,786 fans was evident of a stark reality that many in the Tampa Bay Rays community aim to ignore.
The Tampa Bay Rays entered Tuesday night 32-19, 13 games over .500 and only 2 games behind the first place New York Yankees. They entered Tuesday night coming off a 2018 season in which they won 90 games, with 51 of those coming at Tropicana Field. They entered Tuesday night with a roster loaded with exciting young players including Tommy Pham, Austin Meadows, Willy Adames, Kevin Kiermaier, and Cy Young award-winning ace Blake Snell. Most importantly though, they entered Tuesday with the 5th best record in baseball since 2008.
Just under three hours later, they ended Tuesday night with a 33-19 record, only 1 game back of the Yankees. They ended Tuesday night with their 7th win in their last 10 games. They ended Tuesday night with their 15th home victory of the season, putting themselves in a position for a series sweep with their ace on the bump for the series finale.
Yet, they did so in front of an inconspicuous crowd of 5,786 fans. Yes, that is it. Five thousand seven hundred and eighty-six fans came out to watch one of the best teams in baseball.
Tuesday's crowd represents the smallest gathering in the history of the franchise. A franchise that sustained losing seasons from its inception in 1998 till the magical 2008 season. Not once a Devil Rays team draw this little amount of fans, yet the 2019 Tampa Bay Rays managed to do so while having one of the winningest records in baseball this season and across the past decade.
We can no longer afford to brush aside Tuesday night's minuscule drawing just as an umpire brushes off the dirt that covers home plate. He does so with such regularity that it becomes routine. After more than 20 seasons, brushing aside the attendance figures or lack thereof has become routine for the Rays community.
I may not be an expert on the subject of attendance, but it doesn't take a rocket scientist to know that if a community struggles year after year to show that it cannot support a Major League product, then eventually it will be relieved of that product.
Maybe, it is too late. Maybe, it was too late in 2011 when attendance started to fall off again after a short three year burst. Maybe, it was too late when the Rays arrived in St. Petersburg over 20 years ago.
5,786 fans is embarrassing, plain and simple. There is no excuse. This has little to do with their opponent's sub .500 record and a lot more to do with an existing and evolving stigma that now surrounds Major League baseball in Tampa Bay and the greater state of Florida.
Yes, the Rays attendance is emblematic of a larger problem facing Major League baseball. But, that problem shouldn't be magnified by one of the sport's most successful teams in 2019. Rather, it should be refuted and even turned on its head by Rays fans as they witness their most exciting team in years.
The sad part about all of this is that there isn't a lack of fan support –season long viewership for Rays Baseball up to +27% year-over-year.– there is simply a lack of people willing to spend money on a winning and entertaining product and that is the stark reality I referred to earlier.
For this, there is apparently, no obvious answer and if there was, we wouldn't be having this discussion. But, here we are discussing why one of the best teams in baseball can't seem to attract even a modest crowd on a nightly basis…
Essentially, Tuesday night's crowd was nothing markedly new, nothing truly out of the ordinary. Sure, there was a drastic drop off, but it painted a rather realistic and unsettling picture of the Rays attendance issue. Tuesday night was a very real warning sign of the future that baseball may have in Tampa Bay if things go unchanged. That future may very likely be a nonexistent one.
The Rays have been scraping the bottom of the attendance barrel for years now, and Tuesday night was just further evidence of the stark reality that is Rays' fans willingness to pay money to watch them play.
Want your voice heard? Join the Rays Colored Glasses team!
It is time to stop brushing this stark reality aside like the umpire who brushes aside the dirt that covers home plate. Because, if we keep brushing it aside we will eventually have nothing left to brush aside.