Tampa Bay Rays: Celebrating Brandon Lowe's stats on his birthday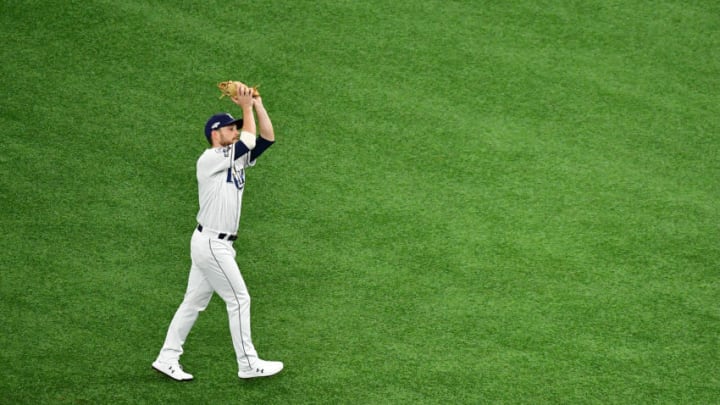 ST PETERSBURG, FLORIDA - OCTOBER 07: Brandon Lowe #8 of the Tampa Bay Rays makes a catch during the first inning against the Houston Astros in Game Three of the American League Division Series at Tropicana Field on October 07, 2019 in St Petersburg, Florida. (Photo by Julio Aguilar/Getty Images) /
The Tampa Bay Rays have a stud second baseman who made the All-Star team as a rookie in 2019. Today we celebrate his birthday and his accomplishments!
Tampa Bay Rays' future superstar second baseman Brandon Lowe is celebrating the successful completion of his 26th trip around the sun.
As he begins the 27th year of his life on Earth (and begins his age-26 season) we take a look at his fantastic rookie season that was cut short by injuries.
In the first half of 2019, Lowe slashed .285/.347/.535 and finished second in the league in wRC+ for second basemen with 133. He was second only to slugger Mike Moustakas' 139.
Of second basemen with at least 250 plate appearances in the first half of 2019, Brandon Lowe finished second in hard-hit percentage (42.4%) to only Ozzie Albies (43.2%) of the Atlanta Braves.
While Lowe struck out an alarming 33.9% of his at-bats, when he made contact he hit it hard and he hit an incredible amount of line drives. His line-drive rate of 27.3% led the team and was second among second basemen in the first half of last season. Only Adam Frazier of the Pirates posted a higher line-drive percentage with 28.2%. As you know, line drives have the highest BABIP of any ball in play.
In his 125 career games, the slugging second baseman has blasted 23 homers, 76 RBI, 23 doubles, and slashed .259/.333/.494. His 162-game average has him at 30 homers and 98 RBI per season.
Baseball Savant compares him to power hitters like 2018's Justin Bour, and Austin Riley of the Atlanta Braves.
Whether he stays at second base or the Rays move him around more in the future, his bat is a must-have in the lineup.
On the defensive side of the ball, he has good speed and that could translate to some more outfield work, something the Rays talked about in 2020's first version of spring training.
In 97 career games at second base, he has posted four defensive runs saved with a 1200 inning projection of six DRS.
Having an above-average defender who blasts line drives and homers is a reason to celebrate.
We look forward to watching Brandon Lowe's career progress and we believe that he can be the answer to filling some of the holes the Rays had in the middle of the order last season.
Happy birthday Brandon Lowe!