Francisco Mejia: Do the Rays finally have a franchise catcher?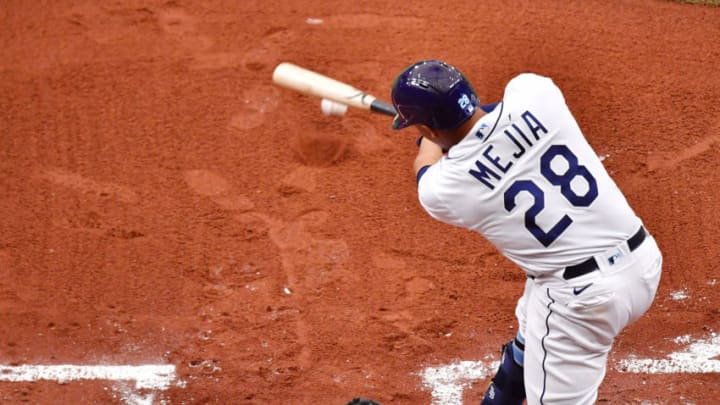 Francisco Mejia Tampa Bay Rays (Photo by Julio Aguilar/Getty Images) /
For the past 10 seasons the Tampa Bay Rays have had one glaring hole on their team, behind the plate. Francisco Mejia is looking to change that.
Now yes, Wilson Ramos was a 2018 AL All-Star as a member of the Tampa Bay Rays but was traded shortly after the All-Star Game to the Phillies. But besides Ramos, and 92 games from Travis d'Arnaud in 2019, the catcher position has been dreadful.
Since 2011, Rays starting catchers have hit under .200 in six of 10 seasons. Some of those catchers include Jose Molina, Kelly Shoppach, and Rene Rivera, just to name a few.
However, even when Ramos was here, you knew he wasn't the long-term answer for the Rays at the position. Lots of Rays fans were hoping they would resign d'Arnaud after the 2019 season, but it didn't work out that way.
Want your voice heard? Join the Rays Colored Glasses team!
Mike Zunino has been decent in his first two seasons with the Rays, but has yet to hit over .165 for the team. But again, he isn't a long-term answer at the position. Zunino is in his age 30 season this year, and if I was a betting man, which I am, he won't be on this team next season.
Which brings us to Francisco Mejia
At only 25 Mejia is a name many baseball fans have known for years. In 2017 Mejia first appeared on MLB.com top 100 prospects list at number 40.
One year later, he was the number one catching prospect in the entire MLB, according to MLB.com, and number 11 on the top 100 list.
That same year Mejia was traded from the Cleveland Indians to the San Diego Padres in a deal that included Brad Hand. However, Mejia struggled early with San Diego.
In 20 games with the Padres in 2018 Mejia only hit .185 with three home runs.
Mejia spent most of the 2019 season in the MLB with the Padres, and showed he was worthy of the high prospect rankings he had received. In 79 games, Mejia hit .265 with eight home runs, and 22 RBI's. Very respectable for a catcher.
However, Francisco Mejia's 2020 was a completely different story.
Now, 2020 was a strange season for everyone, but especially for Mejia. In his 17 games for the Padres, he only got three hits. 3-for-39 to be exact.
Only the Padres executives know how much his awful 2020 played into their willingness to move Francisco Mejia last offseason. But Mejia was involved in his second blockbuster trade last December.
Although this is still a touchy subject for most Rays fans, I have to mention it. Francisco Mejia was one of four players acquired by the Rays in the deal for Blake Snell, and the only player currently in the majors from the trade.
Which brings us to now. Francisco Mejia has played in half of the Tampa Bay Rays first 16 games this season and has been great.
Mejia is 8-for-24 at the plate, leading to a .333 batting average. He's walked twice, drove in five runs, and maybe most importantly, only struck out once. For reference, Francisco Mejia's strikeout percentage was 23% in 2019.
Francisco Mejia had his biggest game of the early season on Saturday in the Bronx. Mejia hit his first home run of the season, a solo shot off Jordan Montgomery in the 2nd.
Then in the 9th, in a tight 5-3 Rays lead, Mejia gave the Rays some breathing room with an RBI double down the left field line off Justin Wilson, scoring Mike Brosseau. The Rays went on to win 6-3.
Now yes, I know it's only eight games in April, but let me have this one. Francisco Mejia looks like he could be the real deal.
Would it be too much to ask for Francisco Mejia to be our Yadi Molina?
Probably, but a guy can dream. Mejia is only 25 and won't be free agency eligible until 2025. So, he should be member of this team for many years to come.
If I had to guess, Mejia will overtake Zunino as the official starting catcher for the Tampa Bay Rays by the end of May.
Zunino will still play a valuable role for this team in 2021, but I believe Francisco Mejia is the current, and future backstop of the Tampa Bay Rays.