Tampa Bay Rays will be well represented on Team USA in Tokyo Olympics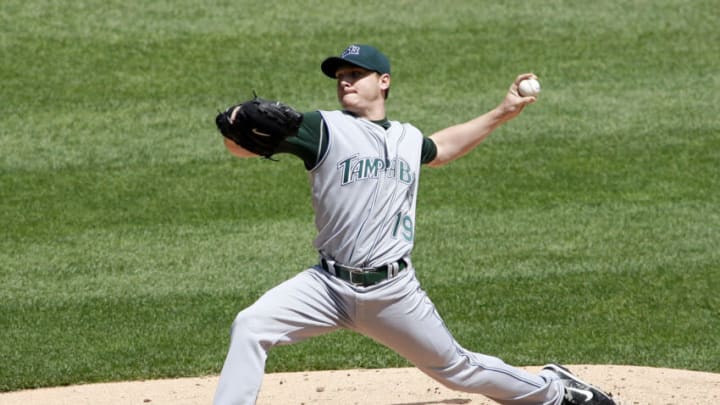 Scott Kazmir Tampa Bay Rays (Photo by Chuck Rydlewski/Getty Images) /
We are just over two weeks away from the start of the Tokyo Olympics, and Tampa Bay Rays fans will have plenty of reasons to watch the summer games.
If you didn't know, baseball will return to the summer Olympics for the first time since 2008. In 2008, the United States won the bronze medal in Beijing. However, that team didn't have any major Tampa Bay Rays connections. In 2021, that couldn't be further from the truth.
Current and former Tampa Bay Rays players will decide who will win the gold in Tokyo, as four of team USA's pitchers have serious connections to the Tampa Bay Rays. Let's dive into each one.
Want your voice heard? Join the Rays Colored Glasses team!
Tampa Bay Rays prospect Shane Baz joins Team USA
The Tampa Bay Rays number five prospect will join team USA in Tokyo. Shane Baz was not a member on the qualifying roster for team USA but has been selected for the real deal. Baz was recently moved to Triple-A Durham by the Rays and has been nothing but excellent for the Bulls since he arrived.
So far this season between Double and Triple-A Baz is pitching to a 2.09 ERA, 0.79 WHIP, and 13.4 strikeouts per nine innings pitched. Baz has been nothing but electric so far this season and will play a massive role for Team USA in Tokyo.
Tampa Bay Rays prospect Joe Ryan returns to Team USA
Joe Ryan returns to team USA after he was a member of the qualifying roster for the team. Ryan pitched a key game in the qualifying tournament, leading to a Team USA win over the Dominican Republic.
Ryan is the 11th overall prospect in the Tampa Bay Rays system right now and has been pitching in Durham all season.
So far in 2021, Ryan is holding opposing hitters to a .189 batting average, while pitching to a 0.87 WHIP, with 11.9 strikeouts per nine innings pitched.
Former Tampa Bay Rays legend Scott Kazmir joins Team USA
When telling the story of the Tampa Bay Rays, Scott Kazmir is a name you would have to mention. For those newer Tampa Bay Rays fans asking themselves, who is Scott Kazmir, and is he really a legend? Let me explain.
Kaz was a first-round draft pick by the New York Mets in 2002, and was traded to the Rays in a deal that broke down like this:
Kazmir made his MLB debut at the age of 20 on August 23rd, 2004, and pitched eight games with the Devil Rays that season. Kazmir would then spend 2005 through part of 2009 with the Rays, making more than 140 starts with the Rays.
In his Rays career, Kazmir pitched to a 3.92 ERA, 114 ERA+, 1.39 WHIP, and a 16.5 WAR. Kazmir was an American League All-Star in 2006 and 2008 with the Rays, and he was the winning pitcher in the 2008 game, which was the final All-Star game at old Yankee Stadium.
Not only did Kazmir have an All-Star 2008 season, but he was a major key in the 2008 American League Champion Tampa Bay Rays. Kazmir started game two of the ALDS against the White Sox and picked up the win.
Kazmir's best game in the 2008 playoffs was game five of the ALCS. On only four days rest, Kazmir spun a gem for six innings against the Red Sox, allowing no runs, on only two hits, while striking out seven.
My strongest memory of Scott Kazmir however, comes from the World Series. I was lucky enough to attend Game One of the 2008 World Series. I was just a kid, with a Ray-Hawk, if anyone remembers those, sitting in the 300 level. Scott Kazmir started game one of the World Series for the Rays against the Phillies.
Chase Utley jumped Kazmir in the first inning for a two-run homer, giving the Phillies a 2-0 lead. Kaz battled through six innings in game one, allowing three runs, with four K's.
Kazmir left the Rays in the 2009 season when he was traded to the Angels in the trade that brought Sean Rodriguez to Tampa.
Since leaving Tampa, it has been an incredible run for Kazmir. In 2011 Kazmir struggled badly. So bad, the Angels ended up releasing Kaz with 14.5 million dollars of guaranteed money on his contract.
In 2012 Kazmir joined the Sugar Land Skeeters of the Independent League and then signed in the Puerto Rican league in the winter of 2012.
In 2013 Kazmir signed a minor-league deal with the Cleveland Indians and pitched the entire season with Cleveland, his first big league season since 2011.
In 2014 Kazmir signed with the Oakland Athletics and had what was arguably the best season of his career. Kazmir pitched to a 15-9 record, 3.55 ERA, 105 ERA+, 1.16 WHIP, and a 1.9 WAR. He earned a spot on the 2014 American League All-Star team and pitched in the game.
Kazmir went on to play with Houston and the Dodgers before his career came to an end in 2016, or so we thought.
After five years, Kazmir pitched in a workout this offseason and was signed by the Giants to a minor-league deal.
On May 22nd of 2021, Kazmir was selected by the Giants and made a start against the Los Angeles Dodgers. What a story.
However, for his place in Rays' history, according to Baseball-Reference, Kazmir is the eighth-best Ray of all time. Their ranking goes solely on WAR for the team, as Kazmir has the eighth-best WAR in Tampa Bay Rays history.
Among pitchers in Rays history, Kazmir sits third in WAR for pitchers, wins, and games started. He sits fourth in innings pitched and strikeouts, ninth in win percentage, and 10th ERA.
I think I speak for all Tampa Bay Rays fans when I say it would be awesome to see Kazmir play a big role for Team USA in Tokyo.
Former Tampa Bay Rays pitcher Edwin Jackson return to Team USA
The final major Rays connection for Team USA is Edwin Jackson. Jackson was a member of the Team USA qualifying roster and will return for the games in Tokyo.
Jackson came to the Devil Rays in 2006 in a trade that broke down like this:
It should be noted, Danys Baez was coming off an All-Star season in 2005 with the Devil Rays. Baez picked up 41 saves in 2005, pitching to a 2.86 ERA, 153 ERA+, 1.32 WHIP, and a 2.0 WAR. So giving up Baez was no easy task for the Rays.
It also should be noted, Lance Carter was related to my first-grade teacher.
Anyways, the Rays thought highly of Jackson, which is why they traded Baez to get him. Jackson went on to pitch three seasons with the Rays, pitching to a 19-26 record, 5.08 ERA, 88 ERA+, and 1.64 WHIP.
Jackson did pitch 4.1 innings in the 2008 playoffs for the Rays, including two scoreless appearances in the ALCS.
Jackson left the Rays before the 2009 season and was traded to the Tigers. With the Tigers in 2009, Jackson earned the only All-Star selection of his career.
Since leaving the Rays, Jackson has played with the Tigers, D-Backs, White Sox, Cardinals, Nationals, Cubs, Braves, Marlins, Padres, Orioles, A's, and Blue Jays. Not kidding.
Although for Jackson, the highlight of his career happened at Tropicana Field back in 2010.
Tampa Bay Rays and Team USA
The success of Team USA rests on the shoulders of current, and former Tampa Bay Rays, and we wouldn't want it any other way.
Two quick notes about Team USA, Matthew Liberatore, the former Tampa Bay Rays prospect who was traded for Randy Arozarena, has been left off USA's roster. Liberatore, who was a member of the qualifying roster, will not join the team in Tokyo. Our friends at Redbird Rants explain why.
The other note, Marlins minor-leaguer, and current Jacksonville Jumbo Shrimp, Eddy Alvarez will join the roster for Team USA. Alvarez will become one of only 11 Americans to compete in both the winter and summer Olympics. Alvarez won a silver medal in the short track speed skating 5000m Relay in Sochi in 2014. A pretty cool story