Magic In The Air...Rays Are Reporting For Spring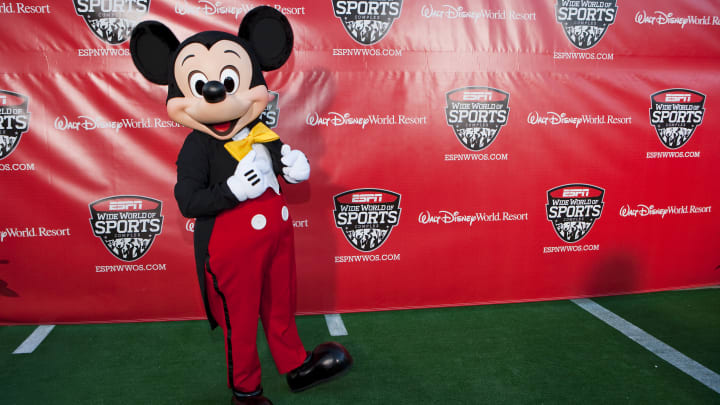 The Rays are back in Orlando for first time in 15 years as a Host. / Matt Stroshane/GettyImages
Get your Mickey Ears out and grab a hot dog, because the Rays have made their return to Orlando and Disney's Wide World of Sports Complex, with pitchers and catchers reporting to camp yesterday and positional players reporting on Monday.
Baseball in Orlando will hear the crack of the bat for the first time in almost 5 years, as both the Atlanta Braves and their former, now defunct affiliate, the Florida Fire Frogs, jumped ship to North Port to play at the newest ballpark in the Grapefruit League, CoolToday Park.
Although the Rays will be making a temporary stay at the WWOS complex in Disney, staying only through the end of the month, there should be some interesting topics of conversation that fans will keep an eye on throughout the first part of the spring.
One of them is: how will the reps be divided?
While this may be more of a question to ask once the team returns to the Trop, as it relates to the Rays starters breaking team camp to play in the World Baseball Classic, it will be interesting to see how manager Kevin Cash divides up playing time between regulars and bubble players here not only in games but also in practice. 
Another interesting topic will be how the corner infield positions will play out in the home opener?
The Rays have depth in the infield, with Diaz and Paredes likely to be your starting 1B and 3B, but in what combination. Do you have Diaz at third or first, or vice versa for Paredes? Will Paredes repeat or get close to the numbers he had last season?
There are questions at both positions, but only time will tell, and this first game could give us a clue as to what direction the team has for the starters at those two positions.
Beyond some of the battles and topics of discussion we hope to see in Orlando, this will be a great opportunity for the Rays to expand into a market that has been untouched by the team.
It has been nearly 15 years since the Rays last played a game in Orlando, a great chance for the team to not only bring baseball fans back to the ballpark but to also bring in new fans and create a new audience that may have never seen a Rays game or a baseball game in general.
Although it would've been nice to see more games being played in Orlando, it should still be an overall great experience and opportunity for the club that should feature some high-level and intriguing storylines to cover early this spring.