Slap Hits: Tampa Bay Rays trying new lights, Cash on Roster moves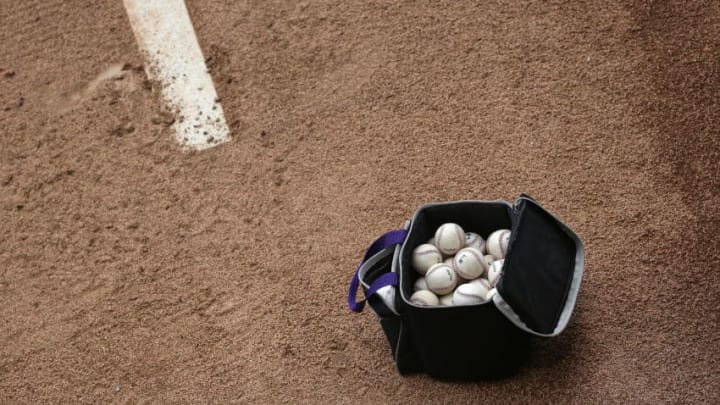 DENVER, CO - APRIL 25: A bag of baseballs sits on the mound in the bullpen as the Pittsburgh Pirates prepare to face the Colorado Rockies at Coors Field on April 25, 2016 in Denver, Colorado. (Photo by Doug Pensinger/Getty Images) /
Welcome to the first edition of Slap hits, The Tampa Bay Rays are testing new lights and Kevin Cash talks Opening Day roster.
The Tampa Bay Rays for sure have new lights for the 2019 season, which they open up at home on Thursday against the Houston Astros. The new lights make the Trop seem brighter, according to longtime Rays beat writer Marc Topkin,
Judging off his picture I would have to agree. The new lights make the place feeling brighter, warmer, more inviting, and look better aesthetically. It even makes the Turf look better.
Brightness is not the only thing the Rays are altering this season, they are also trying out a new tent that displays a nice blue color.
Ignore the snarky comment, but look at this picture of the blue tent.
I do not think the Blue tinted lights will look like the second picture during actual gameplay–though that would be absolutely sick! but it is still a cool visual.
The players worked out under the blue lights this afternoon, and one could assume it will allow outfielders to track balls better as the tiny white baseball travels through the air against a blue tint contrast.
Okay, enough about lights, well one more thing, Do you have a lightbox? You know, those boxes you write stuff on? If so, what do you write in them? Okay, back to baseball.
Kevin Cash spoke to the media on Sunday afternoon and gave us a peek at what the 25 man roster will look like come Thursday, but there are still some moves to sure up.
The first note was on Matt Duffy. The veteran infielder will be shut down from baseball activities for two weeks. We already knew he would be spending time on the injured list, but now we get a bit more information.
As Matt Duffy heads to the shelf for a while, Kevin Cash announced that Guillermo Heredia has made the Opening Day roster as a result.
Jalen Beeks has made the Tampa Bay Rays bullpen per Kevin Cash, which leaves three guys fighting for the final spot in the pen.
Hunter Wood, Emilio Pagan, Adam Kolarek will all battle it out and pitch on Monday to see who will earn that final spot and return to the Trop Thursday for the season opener.
Who do you think grabs that final bullpen spot? Let us know in the comments and on Twitter!