Rays rank #4 in SABR's Defensive Index for AL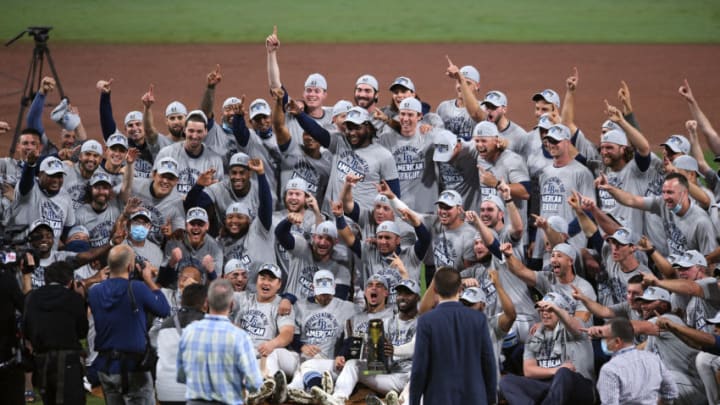 Oct 17, 2020; San Diego, California, USA; Tampa Bay Rays celebrate the victory against the Houston Astros following game seven of the 2020 ALCS at Petco Park. Mandatory Credit: Orlando Ramirez-USA TODAY Sports /
Despite reaching the World Series, the Tampa Bay Rays were ranked no higher than fourth in the American League's SABR Defensive Index rankings for the 2020 season.
The Cleveland Indians were the top-ranked AL team with a total SDI of 17.2 whereas the Rays were scored at 9.6. Chicago White Sox (14.5) and Minnesota Twins (13.8) finished second and third in the rankings. Interestingly, the rest of AL East ranked poorly: Yankees (11th), Orioles (12th), Red Sox (13th) and Blue Jays (15th).
The ranking aggregates ratings for catchers, infielders, outfielders and pitchers to calculate SDI. Tampa Bay saw scores of -1.1, 0.2, 9.0 and 1.5 in their calculation.
As reported previously, the SABR Defensive Index was used solely to arrive at Gold Glove Award winners in 2020 due to the truncated season. This has resulted in no Rays players being nominated and the team deemed fourth in the AL. The metrics used to calculate SDI are "Defensive Runs Saved from Baseball Info Solutions, Ultimate Zone Rating developed by noted sabermetrician Mitchel Lichtman, and Runs Effectively Defended based on STATS Zone Rating."
The highest-ranked Rays player was Kevin Kiermaier (4.9) who was the fourth-placed center fielder. It will not come as a surprise that Kiermaier is huge in center field; the Rays' outfielders are not an issue. Manuel Margot (1.6) also ranked in the top 25 CFs. Hunter Renfroe scored -0.8 at right field.
Among the pitchers, Blake Snell scored 0.6 and Ryan Yarbrough 0.3 while Tyler Glasnow scored -0.6. Recently acquired by the Pirates, Michael Pérez was the highest placed Rays' catcher with -0.2. Mike Zunino's output as catcher should be questioned. His postseason batting was worrying and free agency does give Tampa Bay the option to look elsewhere if they feel that better value can be acquired elsewhere.
Infielders Ji-Man Choi (-0.1 at 1B), Brandon Lowe (-2.1 at 2B), Joey Wendle (1.3 at 3B) and Willy Adames (-1.0 at SS) complete the picture.
Although SDI does not seem to completely represent the Rays, it does allude to areas that will need addressing for the 2021 season.